Pricing decision intelligence for reinsurers
Build sophisticated pricing models whilst simplifying your underwriting process
Pricing decision intelligence for reinsurers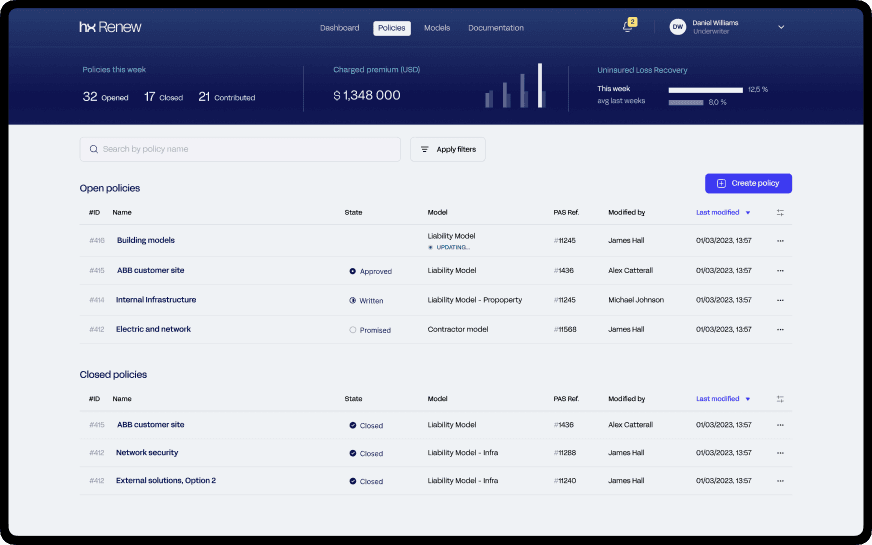 hx Renew offers something new: powerful tools, flexible integrations, and an intuitive, connected workflow between actuaries and underwriters, helping you eliminate admin and deliver growth.
Challenges for reinsurers
When it comes to pricing complex risk, out of the box solutions simply won't do. Home-grown tools offer a customized alternative, but they struggle to scale and are prone to break — especially during busy renewals seasons.
1-1 renewal season
During renewal season, reinsurers must handle a signifcant number of submissions, each requiring them to thoroughly analyze risks, assess exposures, negotiate terms, and define price. Efficiently managing this process necessitates significant resource allocation.
Building sophisticated models
Legacy technology lacks the required capabilities and flexibility for complex data analysis, modelling techniques, and advanced algorithms. This hinders accurate risk assessment, impedes decision-making, and inhibits the ability to respond quickly to market changes.
Managing peer reviews
The need for rigorous evaluation and validation of underwriting decisions can result in lengthy and time-consuming procedures. Teams must coordinate multiple stakeholders, manage feedback, and ensure consistency across the board.
Streamline underwriter workflows
Rapid peer review processes accelerate quote to submission 

More data and insights available at the point of pricing 

Integration with wider ecosystem for streamlined workflows 
Accurately price complex risk
Build sophisticated reinsurance pricing models  

Leverage real-time data and portfolio level insights  

Conduct what-if analysis and run exposure scenarios
Reduce business and technology risk
Embed business rules and compliance controls into the pricing process 

Built in versioning and audit trails for model comparison and compliance 

Apply roles-based governance processes around model releases 
"No data put into hx Renew is lost. With Excel, everything gets trapped in a spreadsheet and is unusable in the long run. In Renew, we can aggregate all of our pricing data, for example, by line of business, and use that to create our development factors. The ability to move a case easily from one year to the next to help with renewing the policy is valuable for the team."

Stuart Quinlan | Deputy CEO and COO, Conduit Re
"We have found hx Renew to be an excellent pricing and underwriting tool. The Python development environment is intuitive and comes with a load of pre-built insurance features – a big step forward from spreadsheet models which took up a lot of actuarial time to maintain."

Samantha Tanner | Chief Actuary, SCOR
"One of the challenges of growing a broad, global, multi-platform (re)insurance business is ensuring that legacy systems do not limit our ability to move quickly and respond to new opportunities. hx Renew is a key part of our strategy to ensure our pricing capability remains ahead of our competition as we grow and evolve."

David Tribe | Group Head of Pricing - Canopius
You heard it here first
Research, news, and opinions to help insurers make intelligent decisions
5 eye-opening stats on the state of pricing in reinsurance in 2023

Read more

→

Conduit Re takes the road to pricing decision intelligence with hyperexponential

Read more

→

5 ways hx Renew helps modern reinsurers make better pricing decisions

Read more

→